'One Year On' Bundle Deal: Austin Champ with 106mm Recoilless Rifle
Regular price
Sale price
£155.00
Unit price
per
Sale
Sold out
To Celebrate one year since taking over KFS, we have put together this bundle Deal.
Only a limited number of these bundles are available and this FV1801 Austin Champ and 106mm Recoilless Bundle kit is only available for a limited time. The bundle represents a saving of £25 off the combined RRP of the 106mm Recoilless Rifle and the Austin Champ.
FV1801 1/4 ton 4x4 Austin Champ (Cargo/FFR)
Parts: Resin (90pcs), Metal (64pcs), Etch, Decals, (Contains Instructions)
M40A1 106mm Recoilless Rifle
Parts: Resin (21pcs), Metal (11pcs), Etch, Decals, (Contains Instructions)
FV1801 1/4 ton 4x4 Austin Champ (Cargo/FFR)
The FV1801 Austin Champ kit features a highly detailed Rolls Royce B40 with opening bonnet, detailed underside with torsion bar suspension, folding windscreen & front seats. Folding rear seat/cargo platform & folded hood. Also, a complete FFR conversion package including replacement 2 speed generator, control panel, 3 radios (C42/B47) connection boxes & ATUs, as well as a front pintle mounted .30 cal MG, & 4 x .303 Lee Enfield rifles. Decals for SIX operating units including Parachute Regiment, Royal Marines, 4th RTR L.A.D., 16/5th Lancers & Royal Military Police & full instructions included. 90 parts in high quality resin, 64 in white metal & 185 in etched brass. Optional folded resin hood or erected vac-formed hood provided, pre-coloured tail lights & indicators, glazing & woven wire radiator mesh. Full pictorial build instructions included. 
M40A1 106mm Recoilless Rifle (TQ211)
An American designed recoilless weapon of the 1950s, widely used throughout the world to this day as a lightweight, vehicle transported, tank killer. There has hardly been a trouble spot in the world in the past half century where this weapon has not been used: Korea, Vietnam, Congo, Somalia, Falklands, Iraq, Libya, Syria to name a few. Our kit is designed to be a conversion kit for the FV1801 Austin Champ & as such comes with etched conversion parts & instructions for that task also. The two rear legs of the tripod are width adjustable, so the kit will also easily fit most 1/24th scale Jeep kits, the KFS Lightweight Airportable, the Italeri 3 Series Land Rover kit & most open backed civilian pick ups. The model is demountable from the carrying vehicle & comes with the standard monowheel tripod carriage. The model has barrel traverse & elevation & comes with a total of 8 rounds of the unique perforated case 106mm ammo. 4 Rounds of HESH & 4 Rounds of HEAT plus an ammo rack for Champ use. The ammunition for this kit has been specially CAD drawn & rapid prototyped & has the correct number & size of perforations in each shell case. Images show how it can be mounted in a vehicle. 
Product Ref: KFS-198 + KFS-234
Share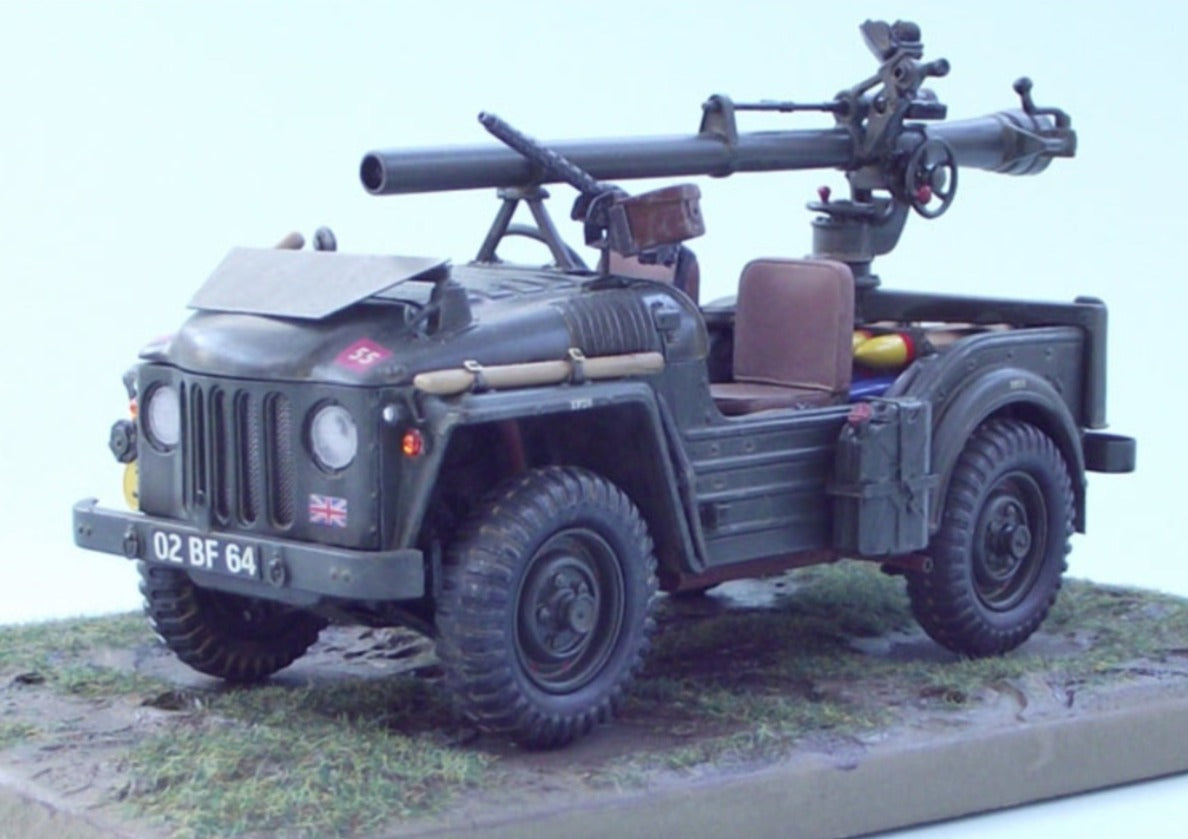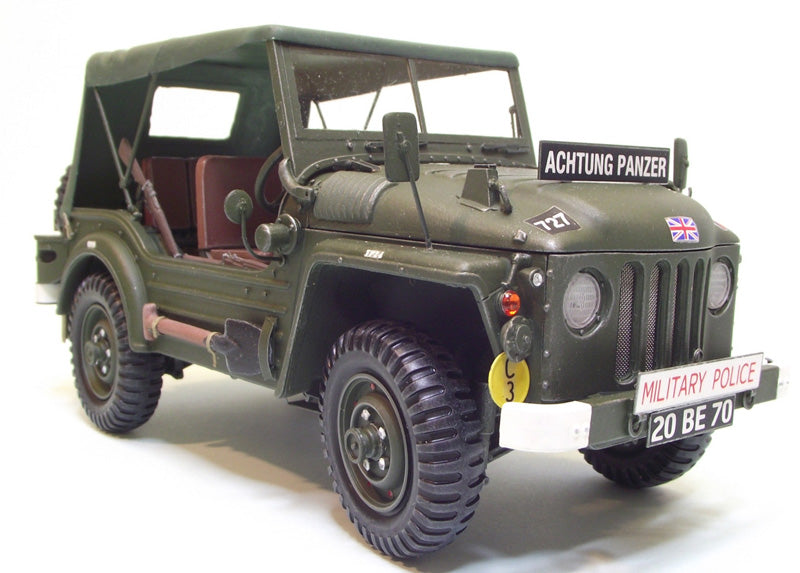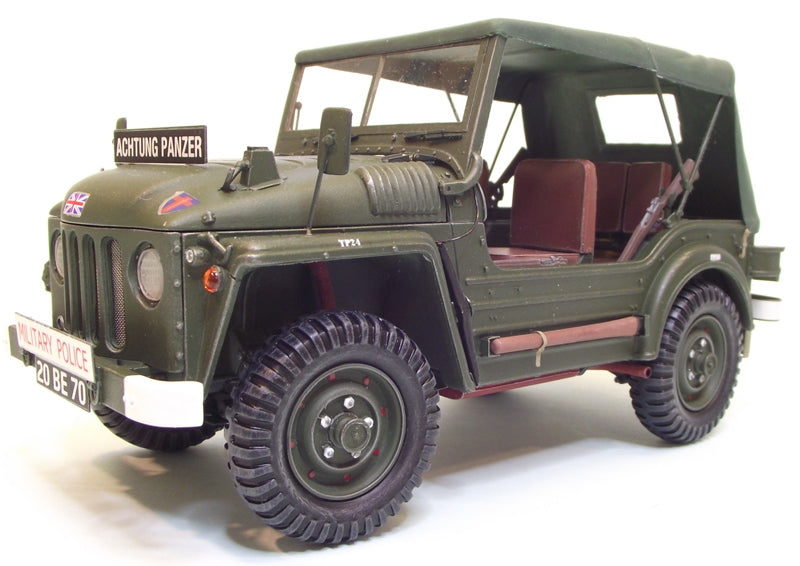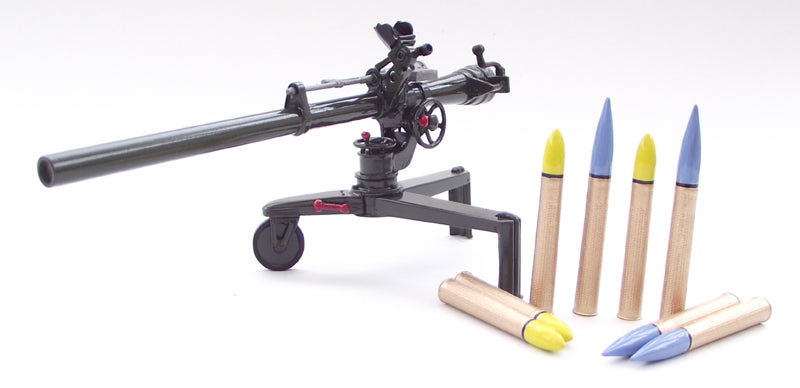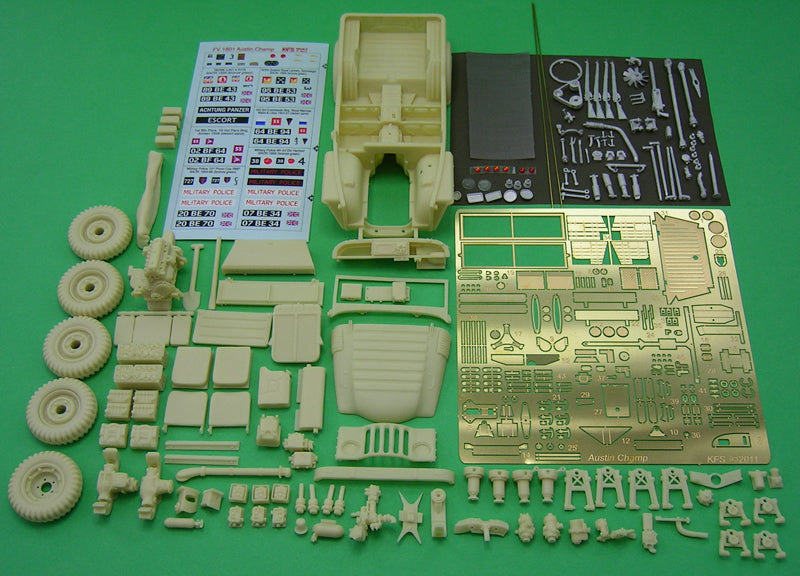 Latest Releases and Recent Restocks
Current Special Offers
Regular price

£8.95

Sale price

£7.95

Unit price

per